What is an email signature?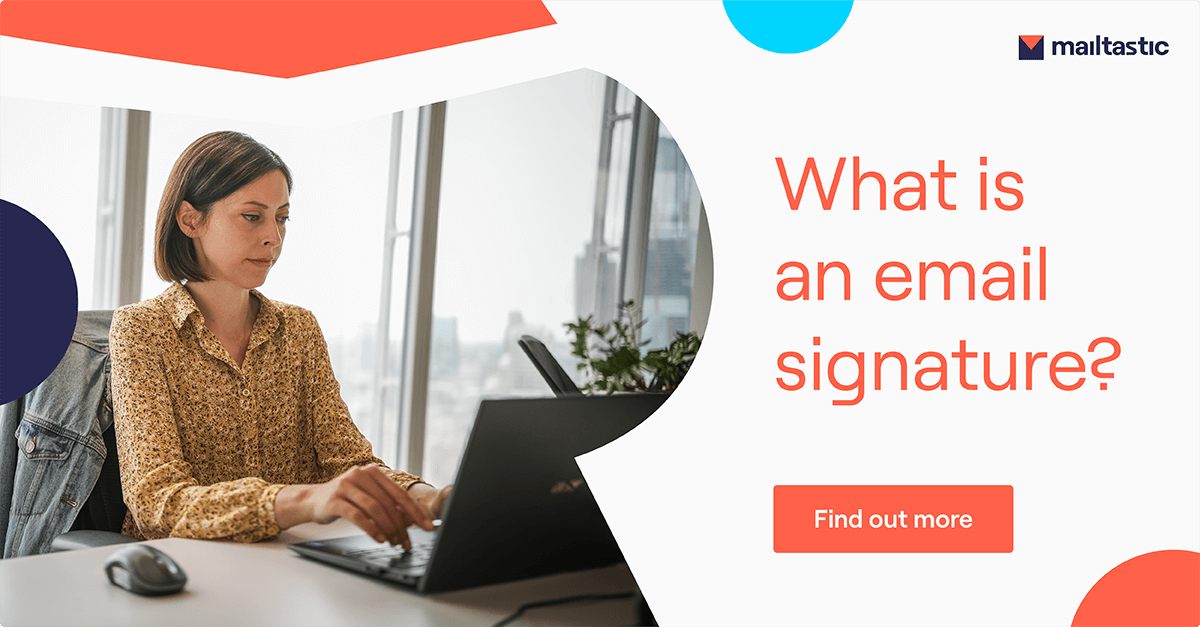 Ahhh, the email signature.
That little block of info which sits at the end of any professional email and tells us all we need to know about the sender.
Done right, it concludes your email with style, professionalism and pizzazz.
An email signature is a visual reminder of you and your brand which can stay in the reader's head long after they've closed their inbox.
It can generate new leads, boost engagement with a range of channels and be an effective way to introduce a CTA.
But time and time again, email signatures miss the mark.
Try and fit in too much info, and they'll look overcrowded and messy.
Format them wrong, and they won't be legible.
But don't fret:
We're going to tell you everything you need to know about how to perfect yours.
What is an email signature?
An email signature is a block of text at the end of an email which includes professional contact details and company branding.
Some email signatures also contain images, hyperlinks and clickable call-to-actions (CTAs) which plug offers, products and services relevant to the email recipient.
Also known as an email footer, email signatures are separate from the main body of the email and shouldn't overwhelm the content of what you're saying.
Rather, they simply finish off the email with a flourish.
They tell your reader who you are, who your company is and how to get hold of you.
Why do you need an email signature?
Email signatures aren't just about telling the world your job title and Twitter handle.
The fact of the matter is:
A sleek and informative email signature is a must for email marketing success.
It can determine whether your emails pop...or flop.
Ultimately, the email signature will decide the lasting impression of every email you send out.
Get it right and you will:
Provide your recipients with all key contact information for you and your company, in a clear and digestible way
Boost brand awareness by using a design that ties in with your company's colour palette and overall aesthetic
Make your email stand out from the ever-crowded inbox
Drive traffic to your social channels via hyperlinks
Give your emails an air of professionalism and style
Show company-wide consistency, with all team members using a similar template
There's no doubt about it:
Spending a bit of time and energy perfecting your email signature really is worth its weight in gold.
What should (and shouldn't) you include in your email signature?
Email signatures must be informative, but that doesn't mean they have to be lifeless.
You can have a bit of fun with them, but don't get carried away.
The cardinal rule when it comes to content:
Keep it short and sweet.
Now is not the time to reel off your lifetime achievements, share your favourite inspirational quote or insert a link to every social media channel under the sun.
Rather, as with a lot of things, less is more.
A common blunder is to massively overcrowd the email signature with WAY too much info.
Want to get your readers to engage with it?
A clear, concise and streamlined email signature is far more likely to do the trick.
The 3 absolute must-haves in an email signature are:
Your full name
Your company
Your job title
But it would be a good idea to include the following too:
Your professional phone number
Social media icons, hyperlinked to your company profiles
Your company logo
A link to your company website and blog
Your company's registered address
And maybe even:
A simple call-to-action, such as a reminder to book your latest webinar or download your eBook
A professional headshot, so that recipients can put a face to the email address

N.B. Don't get caught short when it comes to confidentiality clauses and disclaimers. Research which laws apply in your area and whether you need to include them or not!
Next up, things NOT to include in your email signature:
Links to your personal social media profiles or website
Your home phone number or address
Bullet points
Your favourite quotes
Personal achievements
Selectivity is of the essence when it comes to curating your email signature.
Make sure you squeeze all the key info in there, and wave goodbye to the rest.
How to perfect your email signature
This is where you can get creative.
Designing the look and layout of your email signature is your chance to show your personality and your brand's unique style.
But, again:
Keep it simple.
An overly elaborate design will draw focus away from the information you're trying to present.
A few things to bear in mind:
Keep colours and fonts to a minimum to ensure your email signature is slick and well coordinated.
Use tables or dividers to keep your design well-aligned, neat and visually appealing.
Design your email signature in a way that draws the eye to the parts you deem the most important
Formatting dos and don'ts
So now your content is on point, and your design is looking fierce.
But if you don't format your email signature properly, it'll all have been for nothing.
Incorrect formatting might mean your email signature becomes stretched and warped, too small to decipher or - heaven forbid - not visible at all.
But have no fear:
We're going to run through a couple of crucial do's and don'ts to make sure your formatting game doesn't fail you:
Do make it mobile-friendly.

46%

of all email opens happen on a mobile, so it's vital that your design works on a range of screen sizes.
Don't make the entire thing an image. This will increase the email's size and may well be automatically blocked or stored as an attachment. Not to mention there's no easy way that recipients can copy your info from the image.
Don't use HTML if you can avoid it. It may well cause problems with your layout when using different email clients.
Over and out!
If you want to level up your employee email signatures, learn more about email signature marketing.