What is email signature marketing?
Email signature marketing is a B2B email marketing tactic that uses employee email signatures for marketing purposes.
The typical sign-offs used to conclude professional emails include details like contact information, legal disclaimers, and headshot photos—but the space reserved for your email signature is pure untapped potential.
Email signature campaigns are all about adding onto a business tool that you already have and making it even more powerful.
Do you want to learn more about how your business can use email signature marketing to uncover £63,570 of hidden marketing value?
If you're curious about how email signature marketing management could benefit your business, just keep reading. We'll answer your most important questions in this guide.
What is an email signature?
An email signature is a block of text used as a sign-off at the end of emails. It contains the sender's personal information, including details like job title, contact information, links to social media profiles, a legal disclaimer, and often a professional headshot.
In some cases, professional email signatures are customized and controlled by each individual sender. But email signatures can also be scaled up for larger businesses that require cohesive branding for outgoing emails across all departments.
What is email signature management?
Businesses with more employees and targeted marketing campaigns require a systematized approach to employee email signatures to ensure that they are compliant, on-brand, and consistent with current email signature marketing campaigns. This process is known as email signature management. The technology that supports this process is an email signature management platform, which allows you to roll out automatic signature updates from a central hub, without IT support.
Email signature management software allows businesses to edit, update, and standardize a high volume of employee email signatures across the whole company. Users can roll out automatic updates that align with new branding designs, launch email marketing campaigns, and more—without needing to get their IT department involved.
What is email signature marketing?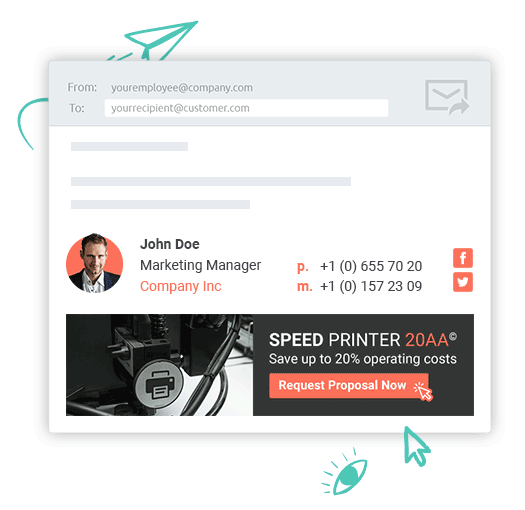 Email signature marketing is a B2B email marketing tactic that uses employee email signatures for marketing purposes. Typically, email signature marketing is enabled by clickable call-to-actions (CTAs) or banners below an employee's name and contact details. These banners showcase products, content and offers, helping drive traffic to them. The technology that supports this process is an email signature marketing platform.
What does an email signature banner look like?
This is what a signature banner plugging a white paper might look like:

This is what a signature banner plugging an event might look like:

And this is what a signature banner plugging services might look like:

Who can use email signature marketing?
Email signature marketing has a broad use case for companies looking to amplify their existing B2C and B2B marketing efforts. Most commonly, marketing teams will integrate email signature marketing into an existing marketing strategy as an additional driver of traffic to content pieces, newsletters or webinar sign-ups, for instance.
Other use cases exist, however. In fact, a company that has not invested in marketing at all can still benefit from email signature marketing. Here are just a few ways non-marketing teams can leverage email signature marketing:
Salespeople can insert widgets that allow contacts to book meetings or get quotes

Customer support teams can use email widgets requesting feedback or offering support

HR can use email signature marketing as part of a recruitment drive
That said, larger companies are likely to see greater ROI from email signature marketing. After all, the more emails you send, the more impressions, click-throughs and conversions you'll get on your signature banners.
Check out this list of email signature examples to see how many different ways a dynamic email signature can boost your image in a professional space.
What are the benefits of email signature marketing?
Here are the main advantages you can expect from adding email signature designs to your marketing messages:
Employees send a lot of emails every year. And each one is an opportunity to convert a customer with a relevant email signature banner.
As marketing initiatives go, improving the quality of current marketing emails and adding banner campaigns comes at a much lower price than alternative strategies. Instead of buying more ad space and facing direct competition, boosting email marketing efforts helps you regain control of a powerful marketing channel that you already own.
Staying organized without an automated system gets more complicated as your business grows. Email signature software enables central management so admin users can ensure brand consistency across the entire company, instead of leaving content and design decisions up to individual employees.
When it comes to email signature marketing software, flexibility is key. With providers like Mailtastic, email banners and signatures can be specifically tailored to the audiences of different departments within your company for optimal customer satisfaction and retention.
Tracking your ROI is as simple as viewing the analytics page on your user dashboard. You can stay up-to-date on success metrics like click-through-rates, impressions, and more. Using these analytics tools in conjunction with strategies like running your own a/b tests provides even more insight into effective lead generation by discovering what resonates with your audience.

What can email signature marketing be used for?
As we discussed earlier, there are loads of use cases for email signatures, no matter what industry you belong to. You might be surprised how much information—and how many different types of media—can fit concisely into an email signature design.
Here are just a few examples of how to use your email signature to promote all kinds of initiatives, whether internal or client-facing:
Sharing content that resonates with your audience, including white papers, infographics, eBooks, case studies, and informative videos and podcasts
Announcing major company news such as a product update or a website relaunch
Upselling new products and features to existing customers
Generating webinar and event sign ups
Highlighting special offers and deals
Testing paid ads on your contact database before setting them live
Communicating internally, for example advertising internal vacancies or a charity bake sale
What results are businesses like yours getting with email signature marketing?
To give you an idea of how this looks in reality, we've broken down some of our customers' results with Mailtastic.
Desoutter used Mailtastic to drive traffic to a service portal where customers could reorder spare parts. 90% of traffic to it came through email signature marketing.
Spindler used Mailtastic to achieve 106,000 email banner impressions in a month.
Suthor's signature banners overtook their traditional email marketing efforts in terms of ROI.
Email Signature Tools Vs. Email Signature Marketing Platforms
Before jumping into the task of choosing an email signature provider, it's crucial to understand the difference between email signature tools and email signature marketing platforms.
What are email signature tools?
Basic email signature tools offer the bare minimum of what you need to manually create standalone email signatures and promotional banners. You can even find free email signature generators online that offer a limited library of email signature templates that can be customized and downloaded.
One significant limitation to going this route is lack of system functionality. Unfortunately, standalone email signature tools usually can't integrate with a wide range of email systems. You'll have to make sure the signature provider you choose is compatible with your email provider of choice.
Email signature tools are valuable for their accessibility and relative convenience for those with few or no employees. That said, they're not to be confused with email signature marketing platforms, which are offered through email signature software service providers like Mailtastic.
Email signature marketing platforms
With an email signature software provider, users can fully optimize the potential of email signatures.
Firstly, email signature software platforms offer far more customization options when it comes to signature design. Some providers offer a full library of user-friendly, customizable signature templates, as well as an html editor that allows unlimited editing capabilities.
But even more important, email signature marketing platforms allow users to centrally manage a high volume of email signatures, roll out automated updates company-wide, create targeted banner campaigns, and measure the effectiveness of email marketing strategies with analytics tools like click-through rates (CTR) and impressions.
When it comes to functionality, email signature marketing platforms are more likely to sync with multiple email systems, including Microsoft 365, Outlook, Google Workspace, Apple Mail, and more.
Frequently Asked Questions
Does email signature marketing work?
Email marketing is nothing new. In fact, the reason why it remains so prevalent is because it's still one of the most powerful ways to gain and retain customers—far more so than other channels like social media.
But one of the most unique advantages of email as a marketing channel is that it's trackable. When a marketing team can pinpoint what's producing results and what isn't, ad strategies quickly become more successful.
Here are a few examples of email signature KPIs that provide immediate insight as to how well email signatures are improving your overall email marketing strategy:
Impressions: This metric communicates the number of people that have viewed your email signature in a given time period.
Clicks: This metric tracks how many clicks any link in your email signature has gotten, including clickable social media icons, links to landing pages, or call-to-action buttons.
Click-through-rates: This important KPI is a simple calculation: divide the number of email signature clicks by the number of email signature impressions, and you'll have your click-through-rate percentage.
Conversions: Once you can measure how many email recipients completed your email signature's CTA, you can start measuring what percentage of your total conversions result directly from your email signature marketing campaign.
Email signature marketing is transparent and measurable. And the best part is, once you have access to a few important KPIs like number of impressions and clicks, you can explore all kinds of ROI calculation metrics that are tailored to your business' size and specific needs.
What is email signature marketing strategy?
An email signature marketing strategy turns outgoing business emails into a marketing space by incorporating dynamic marketing banners and calls-to-action within employee email signature sign-offs.
The beauty of email signature marketing is that not all marketing goals have to be strictly sales-oriented to achieve results. Banners and CTAs can be used to direct traffic to a website home page, drive registrations for an event, or simply provide a link to resources that the recipient will be interested in.
What is a good signature for an email
Your email signature can do more than share details like your phone number and linkedin profile.
Following these email signature best practices will take your email signature from adequate to engaging:
Craft a strong CTA. The best CTAs are short, to-the-point, and give the recipient a compelling reason to click. Your CTA should directly correspond to the content of your message, since the subject line of your email already won customer interest by convincing them to open it.
Incorporate marketing banners. Whatever you want to share with your email audience can be effectively promoted through marketing banners. Don't let that space go to waste!
Enhance your brand image. Instead of using generic fonts and images, focus on incorporating your business' current logo, taglines, and signature colors to reinforce brand recognition and consistency with every email sent.
Choose a great headshot. Adding a professional photo of yourself helps build customer connection and trust.
Keep it simple and sleek. Don't overload your email signature with too much information or overly complex sentences. Your content should be both visually appealing and easily digestible.
Use different signatures to use for different client groups. Segmenting your audience by tailoring specific banners and CTAs to specific groups is key to winning customer interest and catering to the needs of all kinds of recipients.
Break new ground with email signature marketing.
Incorporating an eye-catching email signature is more than the finishing touch to a marketing email—it boosts your chances of customer engagement.
Use your email signature as an opportunity to show off your business' best assets in a nutshell.
Ready to try it yourself?