22 Content Marketing Ideas for B2B Marketers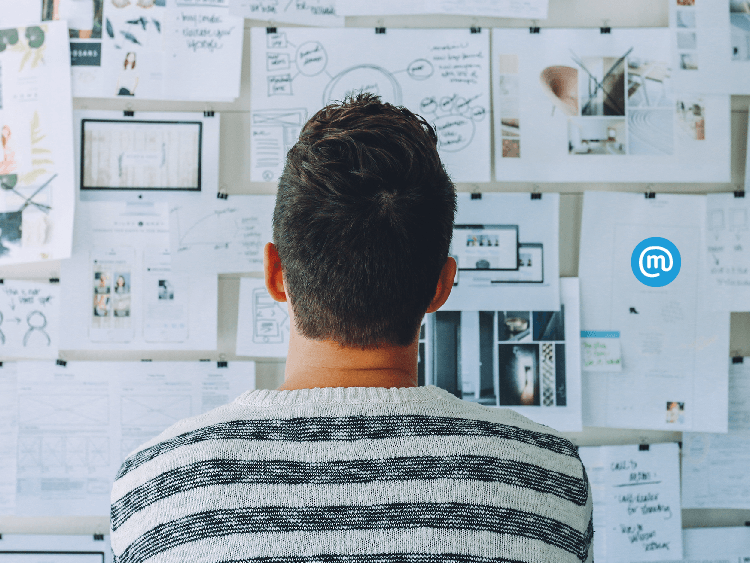 The discipline of content marketing has so far been known primarily from the B2C area, B2B companies usually find it more difficult to do so. Here, the focus is often on existing customer business or on classic acquisition at events and through recommendations. Many companies waste considerable potential in this way, because content marketing is also important in the B2B sector and can be used very effectively to increase sales and acquire new customers. We have summarized 22 content marketing ideas.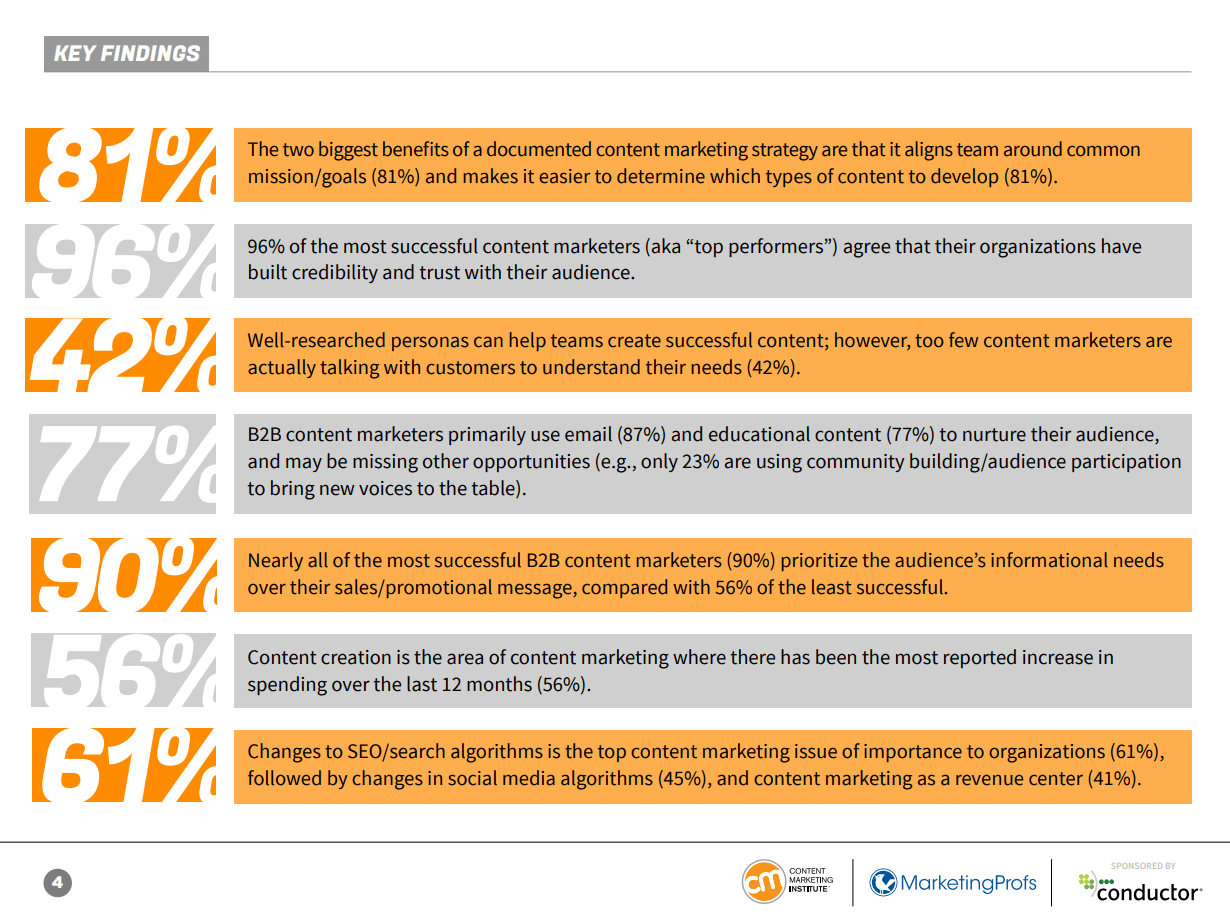 Source: B2B Content Marketing 2019 Survey by the Content Marketing Institute North America
Good B2B business relationships are based on trust. Performance marketing with a focus on timely conclusion can only achieve this to a limited extent. Especially when it comes to high-priced services and products, numerous contacts are required. Only the establishment of a relationship over a certain period of time builds this trust and strengthens the bond.
Content marketing is one of the strategies that does not promise quick success, but instead aims at sustainable growth and long-term success. The continuous delivery of relevant, high-quality content increases the trust of potential customers and positions your company as an expert in your industry.
But good effective content marketing is time-consuming, costs resources and budget, because it requires that you as a company create, distribute and advertise content yourself. Relying on cheaply purchased content is rarely a good idea. High-quality content requires strategic planning and sufficient time for implementation. It is important to differentiate yourself from the competition, to create better content and to align it with the company's goals and the needs of your target group.
Ultimately, content includes all the information that companies make available on their own and external channels. From your "About Us" page and product descriptions to your blog and press releases to your social media channels - strategic content marketing considers all relevant channels and possible types of content that you produce or initiate.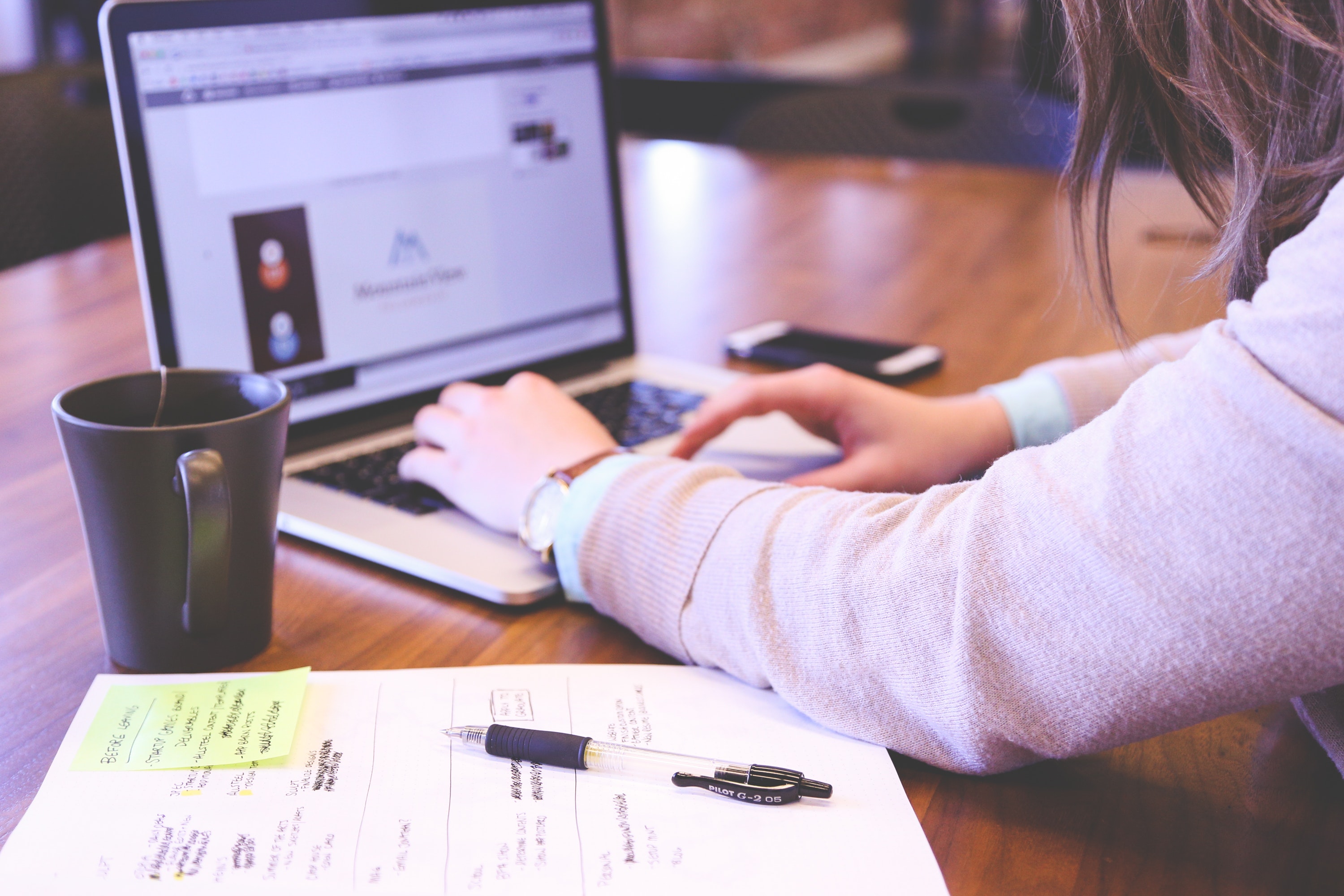 What are the goals of content marketing in the B2B area?
In order to operate successful content marketing as a B2B company, should you first define the goals that you are pursuing with your measures? Depending on which goals you are pursuing, the types of content, placement and distribution options you should include distinguish.
An overview of possible targets for content marketing actions:
Branding: Increase your awareness as a company or brand. You build up and expand your expert status in your industry and thus increase the trust of potential customers in you and your offer.
Customer loyalty: Successful content marketing looks at the entire customer journey and is based on questions such as: Which customer needs can you answer in which phase of the purchasing process? Which problems or questions can you support potential and existing customers with? How can you create interaction and involve your customers in communication? The more customers you consider a valuable resource on a particular topic, the more you understand and feel "heard" by them, the greater their loyalty to you will be.
Visibility/ Range: Increase traffic on your website or in your online shop or targeted on specific landing pages. This point includes all visitors who come via different channels (paid and unpaid search results, referral traffic, clicks from e-mails or social media, etc.).
Lead generation: Motivate potential customers to leave you their contact information to maintain communication and relationships. The most common solution here is to add your name to your email list, usually by subscribing to the newsletter or requesting further information by email.
Revenue growth: Even if, as described above, content marketing is primarily long-term and is designed to build trust, strategically created and placed content can also help increase your sales. You can achieve this by presenting your product or service as a solution to a customer problem and highlighting your USP. This promises success if you see your content as advice, as real help for visitors and less as aggressive sales talk. If, for example, a visitor is interested in a product, present its features and possible applications and offer possible alternative solutions.
What does a B2B content marketing strategy look like?
The production of content (in-house and with the help of outsourcing) always means that resources and budget must be made available. Whether these pay off depends heavily on whether you deliver the right information to leads and customers at the right time.
You need to reach (potential) customers at different stages of the purchasing process. From the first contact onpage or offpage via the visit of the website and the conversion into a lead to the first purchase and finally the recurring purchases as a regular customer. A good strategy is therefore the basis for successful content marketing, for B2C and B2B companies.
Since the topic of content marketing strategy (in which of course the email signature must not be disregarded) is complex, we can only give you first suggestions at this point, which can help you with preliminary considerations and your content planning.
The fundamental question that B2B companies in particular ask themselves is: Who is involved in the purchasing process and what information favours a positive decision? While in the B2C sector individual end customers often make the purchase decision alone, especially in larger companies a number of employees are involved in the decision-making process. Budgets must be approved by superiors and contracts signed by managing directors or other responsible persons.
Consider all relevant positions and the information need of each participant at different times: Is it about trust in you and your solution, do testimonials help convince or present the features and benefits of your product or service?
Understanding the target group
Think yourself into your target group and learn to understand them. Depending on how close your area of responsibility is to direct customer work, this task can be a pretty simple or a real challenge. Ask your sales reps about the most common questions, concerns and problems and use tools to better understand your customers and potential groups.
Google Analytics shows you, for example, which pages on your website or in your online shop are visited most frequently, where the jump rate is particularly high (possibly important information is missing here?) and which pages are visited most frequently before a transaction.

In the Google Search Console, you can see for which keywords your website or online shop was displayed and clicked in the unpaid search results. What are the most common topics and questions?

Using a keyword search (for example in the Google Keyword Planner) you can find out which keywords your target group enters particularly frequently in the Google search. Problems and questions can also be drawn from this.

If you already do email marketing, the evaluation of the most successful campaigns, the emails with the highest open rates and click-through rates can also help you to better understand the needs of your recipients.

The results and especially all the click rate of your email signature campaigns help you to recognize which content is interesting for your target group.
The listed tools and strategies are only a part of the insights into the thoughts and feelings of your customers, which enable you to evaluate your marketing measures and the targeted use of tools. Together with the definition of your content marketing goals you get a good basis for your content strategy.
Which content types and ideas are especially suitable for marketing managers in B2B companies?
Before you decide on specific types of content, media and content, ask yourself these strategic questions: What is our target audience? Which companies with which characteristics should be addressed? This becomes more concrete, for example, through the development of personas that describe various scenarios of typical (potential) customers.
B2B content marketing generally relies more on information than on emotional appeal and entertainment aspects as they are known from the B2C sector. Above all, numbers and facts are important, because in many cases the person responsible will have to explain or justify the investment to superiors.
Even if the focus is on information, this does not mean that you cannot enrich your B2B content with storytelling. Tell credible stories about your products or services and previous customers or company internals. Identify potential customers with your company and create an emotional bond. Create trust in your brand and your company, demonstrate competence.
22 Ideas for Your Content Marketing Strategy
Depending on your target audience and industry, you can include the following 22 ideas in your content marketing strategy:
1. Blog posts
The corporate blog is often the first channel for content action. Thematically many different contents can be placed here: Advice articles on common problems, company news with a "look behind the scenes", industry insights and new trends, event recaps after your own event or an event you have attended, technical articles, etc.
2. Interviews and guest posts on your blog
The content in your corporate blog does not have to be produced exclusively by your company. Give experts the opportunity to publish (and distribute) a technical article on your blog. An alternative is to interview experts on topics that may be of interest to your target audience. As a pure text form or as an audio or video interview with transcription, you can create relevant new content with the help of external content.
3. Case studies and application examples
Present successful customers with before-and-after comparisons, let customers have their say and report on their experience with your product or service. Give customers application examples for your products in the form of pictures or videos.
4. Studies and research results
Have you conducted a study on a specific topic or are there results from your research department that might be of interest to your industry or your customers? Advertise them in the form of press releases, offer the complete results for download and present a summary on a special landing page. Alternatively, offer your findings to industry portals for publication.
5. Surveys and survey results
Do you have a sufficiently large customer base so that a survey leads to meaningful, reliable results? Survey your customers and then evaluate the results for publication.
6. Guest articles on industry portals
Offer your expertise to specialist portals in your industry. Suggest a relevant topic (which has not yet been dealt with there), perhaps even with a first structure, and show your expertise as a guest author.
7. E-books
E-books are published on a wide variety of topics and specialist topics. Is there an extensive topic in your industry that is worth covering in detail in the form of an e-book? Offer it on your own website or use the reach of other platforms to strengthen your authority and position yourself as an expert.
8. Whitepaper
Are there any areas in your field for which an e-book is not worthwhile? A whitepaper is an alternative. Compile your knowledge in a practical and appealing way and offer the PDF for download. Depending on the topic, you can add checklists or worksheets for your customers.
9. Slides from presentations
Were you a speaker at a conference? Make the slides of your presentation available online, either on your own website or on special slidesharing platforms. If you have organised an event yourself and an email list with the participants, don't forget to send them the presentations afterwards.
10. Webinars and their recording
Webinars are a good way to train your customers, for example in how to use your product. Around the webinar different contents can be generated, from the landing page with the registration to the webinar up to the summary and a replay for participants who could not participate live. At a live webinar, you can also use the opportunity for your customers to ask questions that you can use as suggestions for further content production.
11. Video tutorials
Is your product in need of explanation? Video tutorials are very helpful in understanding how it works and answering questions. Video content also allows you to take advantage of the reach of one of the largest search engines by optimizing your videos for YouTube.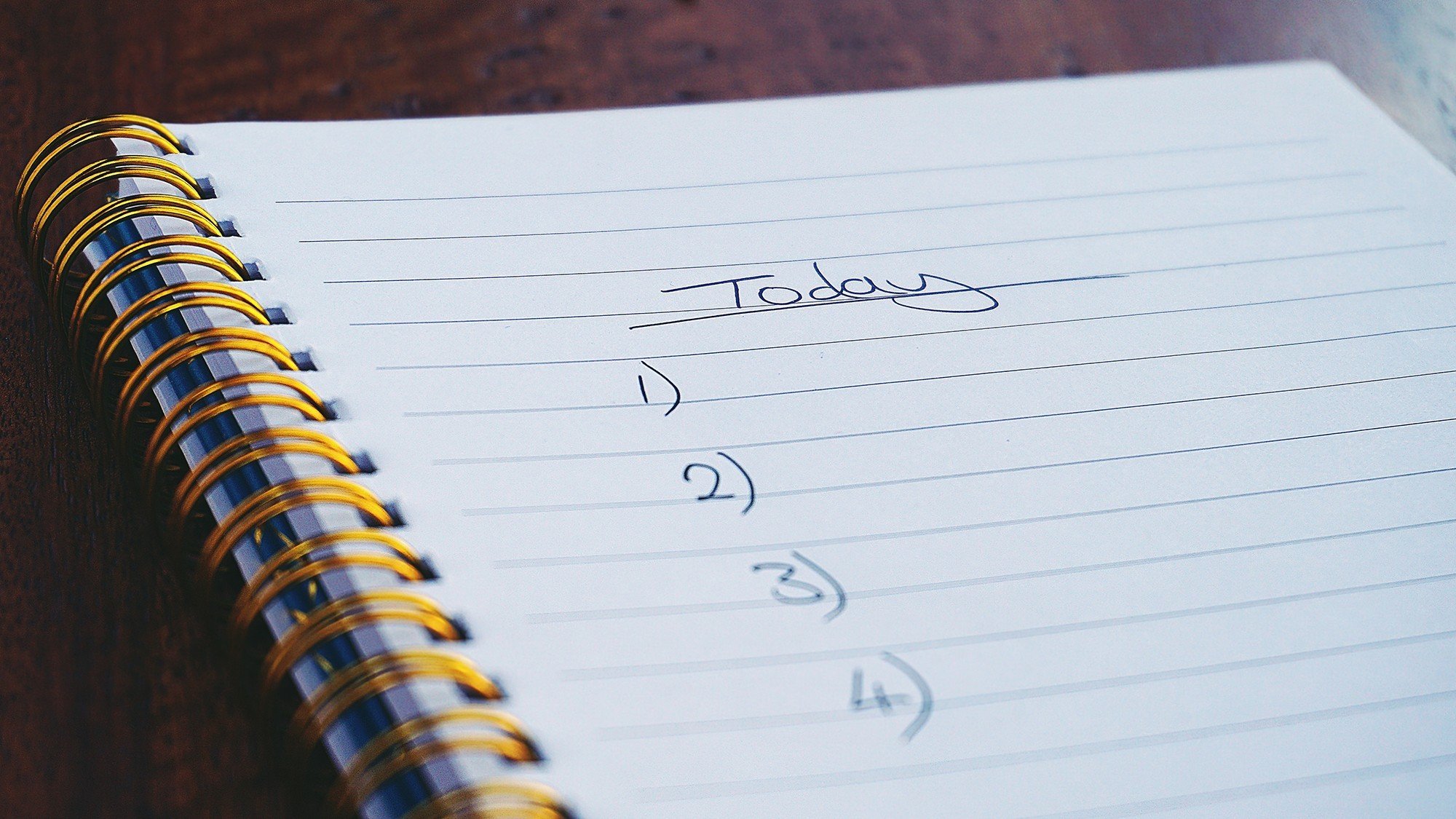 12. Podcasts
Is audio content popular and useful in your industry? With a podcast you not only have the opportunity to present your knowledge and offer your customers real added value, but you can also increase your reach with guests who refer to your podcast.
13. Infographics and other pictures/photos
Not only with the help of videos you can explain complicated procedures and connections. Perhaps you can also use an info graphic, which you can integrate into a suitable blog post and make available for sharing. Other visual content can be image galleries, for example.
14. Product information
Product descriptions should also be part of the content planning. If, for example, you sell products from other manufacturers in your online shop, you may adopt the product information and images that are made available to you. Set yourself apart from the competition by providing significantly more information. What characteristics does the product have, for what purposes can it be used, what alternatives or complementary products are there? What is your experience with it?
15. Product comparisons
If you offer different products in the same categories, product comparisons will help customers make a decision and better understand the differences. Make your own test, compare characteristics in a table or in an interactive comparison according to certain characteristics.
16. FAQs
Collect the most frequently asked questions from leads and customers and post these questions with detailed answers on your website. This can also help reduce the burden on your customer service.
17. Glossary
Are you active in an industry that uses many business terms that your customers are not always familiar with? A glossary with all these technical terms that may require explanation can help you to find them and also supports your expert status.
18. Installation instructions and technical data sheets
In addition to the pure product information, further content formats can be useful to describe your product in the best possible way and to answer questions from potential customers. Assembly instructions and technical data sheets are just two examples.
19. Microsite or theme world
A microsite is a separate page that focuses on a specific (sub)topic. The so-called theme world, on the other hand, concentrates on a sub-area of your page. For different business areas, it can be useful to create special theme worlds that bundle all the information about this area. These can, for example, consist of professional articles, downloads and visual content, as well as presenting suitable products and services.
20. Online courses/academy
Möchten Sie Ihre Kunden umfangreich schulen, ziehen Sie einen eigenen Lernbereich in Betracht. Dieser kann öffentlich zugänglich oder als Mitgliederbereich verfügbar sein. Von komplexen Kurssystemen bis hin zu einfachen Seiten, in die Videos, Bilder und Texte eingebunden werden, sind hier verschiedene technische Umsetzungen möglich.
21. Online Magazin
If you want to train your customers extensively, consider your own learning area. This can be publicly accessible or available as a member area. From complex course systems to simple pages that include videos, images and texts, various technical implementations are possible.
22. Interactive applications
Perhaps the most elaborate variant is interactive applications. However, if they offer real added value and in the best case have unique selling propositions, they can attract considerable attention. Examples of such applications could be a calculator, a configurator or an online tool that your customers can use to calculate costs or put together a product, for example.
There are many sources you can use to help you find a topic. The following questions can give you an initial suggestion for relevant content:
What are the current trends in your industry? Are there any innovations or other developments?

What do competitors and customers talk about? Which topics are particularly present in the social networks, which relevant hashtags are popular?

What is the predominant opinion on certain critical issues in your industry? How does your company position itself?

What is the intention behind different needs / search queries that you have identified during the analysis of your target group?
The first points of contact can be trade magazines (online and print), the websites of your competitors, feedback from your existing customers (customer service or surveys), comments on your social media channels or events in your industry.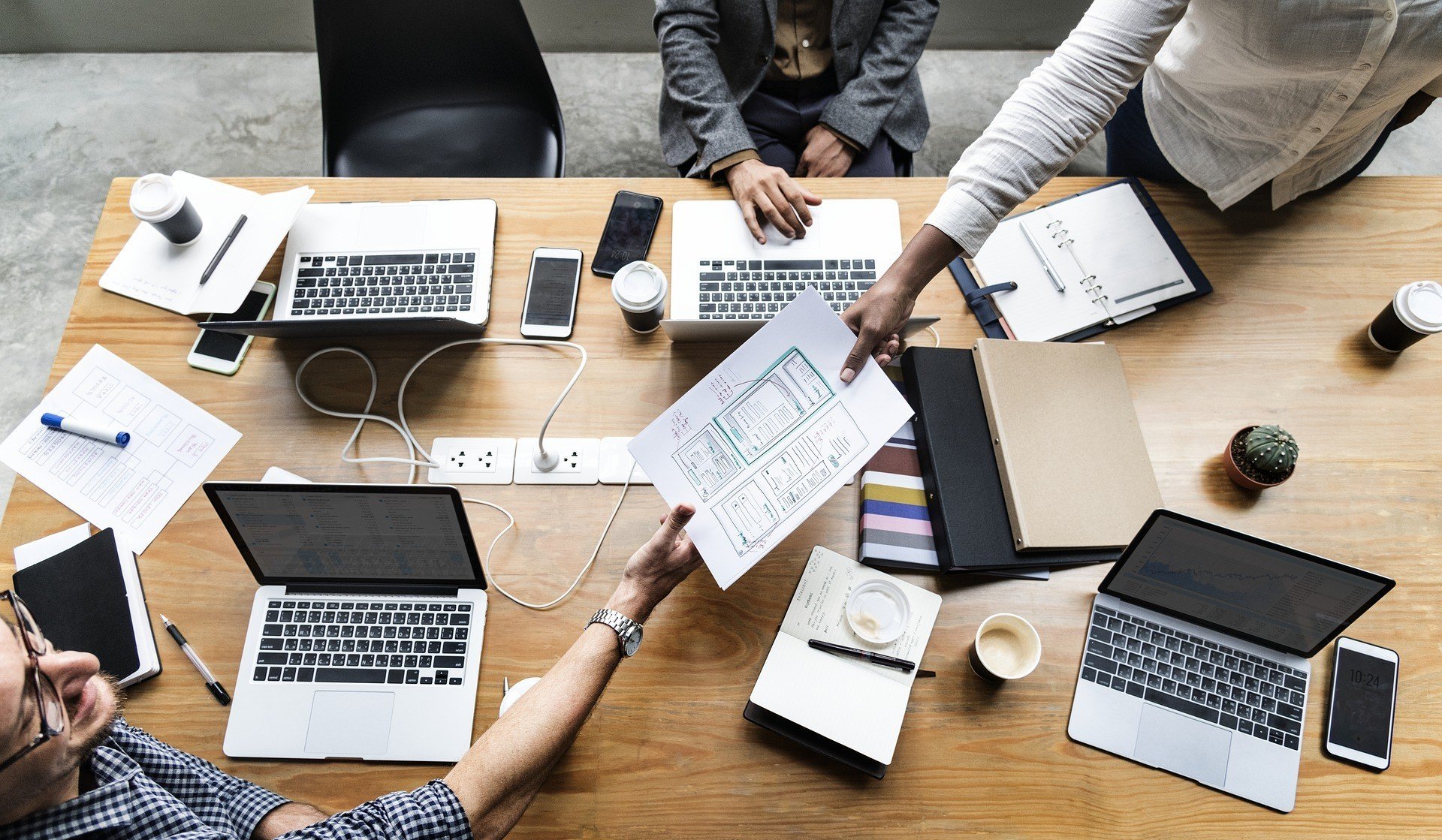 Which channels can be used for content distribution?
Even the highest quality relevant content will not help you achieve your business goals if nobody reads it. Content distribution is therefore an essential part of content marketing. On the one hand this can be understood as the distribution of content on the respective platforms, on the other hand it can also be understood as the promotion of your content. The process here depends on whether you produce content for your own channels or the platform of a third party.
We assume at this point that you have created content for your website, online shop or blog and would like to increase its reach. There are various channels that can traditionally be divided into three groups:
Owned Media: all platforms over which you (largely) have control - for example your website, your newsletter list, your personal contacts, your social networking profiles and your email signature. These channels should always be used as far as relevant, as the hurdles are comparatively low. But the reach is limited.
Earned Media: Unpaid channels outside your own platforms - for example PR activities, collaborations, search engine optimization (SEO). The biggest disadvantages compared to paid media are the limited targeting possibilities and the lack of scalability of the measures.
Paid Media: All paid advertising - Google Ads, Affiliate Marketing etc. depending on the platform, you will have much better opportunities for targeting, but you will face higher costs.
Measures for Content Distribution
Irrespective of this classification, these channels and content distribution measures are recommended for B2B companies, for example:
Search engine optimization: Already at the content creation stage it makes sense to consider SEO criteria in order to increase the probability that you will be found in the unpaid search results. What are the most important search terms? Have you optimized metadata, headings, text and images?
Website: If you have integrated the content on your website, make sure that visitors can find it here. Create sufficient links from other pages, and in the case of important content also from the start page. If you have created a new product description or service page, you can link it to the topic from relevant blog posts, for example.
Email: The emails written daily in B2B companies are commonly seen more often than their website. Take advantage of this potential and teaser your content into campaign banners that you attach to your signatures. Link them to a suitable call-to-action. So you can unobtrusively promote new content to your business contacts. In addition, send a newsletter to draw attention to the new content.
Social media: For business customers, LinkedIn and Xing are of particular interest here, as are other channels depending on the industry. Publish an extract of your new content and link to your website.
Paid Advertising: Depending on the topic, all SEA measures can be considered (text ads, display advertising, etc.). Depending on your target group, also consider Facebook Ads, YouTube and LinkedIn advertising. Advertorials are another way to ensure paid reach.
PR work/outreach: Does your company have cooperations with other companies that you can use for distribution? Traditional press work (press releases, direct contacts to press representatives, etc.) is just as valuable here as outreach measures that specifically address blog owners or editors of relevant online magazines, for example. Although guest articles are a strategy that is used excessively in some industries and has thus lost its efficiency, targeted specialist articles on high-reach portals with which you can advertise your content (for example a download on your website as further information on the topic of your guest article) are still a recommendable measure.
OffPage: Even if you are primarily active in the online world, you shouldn't neglect off-page channels. Your own events are a good opportunity to advertise relevant content (e.g. a new study). Even if you send an employee from your company as a speaker to an event, you can use this to point out, for example, a new white paper that matches the topic of the presentation or session.
Conclusion: Don't miss out on the opportunities that B2B Content Marketing offers you!
Even if at first glance it seems to be a big challenge to create and distribute B2B content, our examples and ideas have hopefully given you ideas for your own content marketing measures. Create targeted content that will make you more visible to your target audience, strengthen confidence in your company or brand, and build relationships with your customers. Use all channels available to you and always focus on your business objectives on the one hand and the needs of your (potential) customers on the other.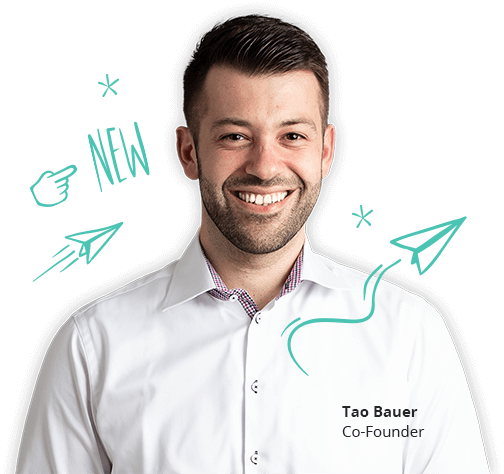 We advise you personally!
You want to know how you can distribute your content through email signature marketing? We would be happy to show you in a demo.