An artist's guide to professional email signatures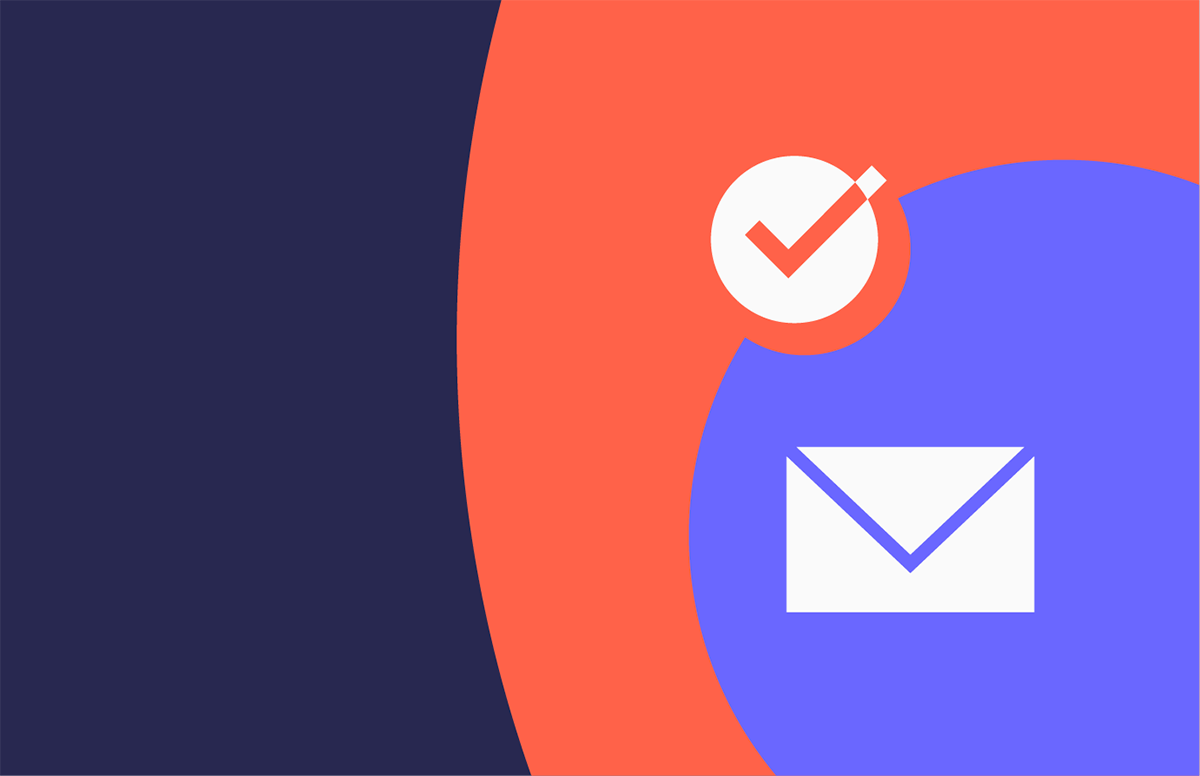 Looking to make your mark as an artist? Check out this guide and discover how a professional email signature can help. 👇
What's your biggest fear as an artist?
Is it that people will love your work and forget about it? Or is it that people will love your work and forget about you?
That's pretty deep. But both eventualities are avoidable if you take matters into your own hands.
One way you can do that is with a professional artist email signature. These help you to:
Network with peers in your industry

Reach potential buyers

Generate traffic to your portfolio and web store
To find out how, scroll through our comprehensive guide👇

What are the benefits of artist email signatures?
That's the expected number of emails that'll be sent and received daily by 2025.
This is exactly why you should pay attention to your email signature.
In every message, you have the chance to tell people how to get in touch with you, showcase your credentials, and plug products on your site.
Here are 3 key things you'll achieve with one:
You'll appear professional👩‍⚖️
Appearing professional is important, even in creative industries.
Especially if you're liaising with curators and gallery owners to arrange exhibitions and sell your work.
A properly designed email signature helps with this, making you look credible.
You'll build your personal brand 💅🏽
You don't have to whip off your ear to get noticed.
Instead, use your email signature to reinforce your personal brand.
You can do this by designing your signature with colours, concepts, and visuals that reflect you as an artist.
You'll grow your reach 📣
Once you've impressed recipients with your artistic talent, they'll want to take the next step in their journey.
That's why it's important to make a clickable email signature with a call-to-action (CTA).
Here's an example of how one conversation could lead to meaningful interactions with your art: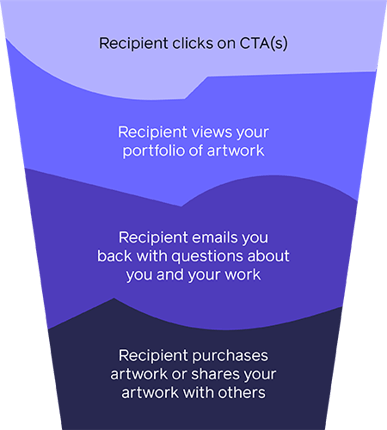 For minimal effort, these benefits are too good to pass up.
What are the best practices for artist email signatures?
Now you know the benefits of having an artist email signature, you need to learn how to create one tailored to your professional needs.
So here's everything you need to include👇
Start with basic information

📞
Every good email signature will start with three things:


Before thinking about anything else, make sure you've covered these points.
Include relevant CTAs

📱
CTAs are clickable buttons that instruct recipients to take the next step in their journey. By using them, you can grow your network of contacts, whether they're other artists or gallery owners.
There are lots of CTAs out there, so the trick is choosing the relevant ones that'll help you fulfil your goals as an artist.
Clickable Instagram icon 📸

This is ideal if you're just starting out in your career as an artist. Because with an Instagram icon, you can direct recipients to a feed of your illustrations, sketches, and paintings.
This will help ensure you're top of mind when recipients eventually make a decision to purchase artwork.
But plugging your Insta comes with a small caveat. As there are 1 billion users, you'll have to combine your email signature with a dedicated strategy for the platform, if you want to get traction quickly.
Clickable DeviantArt icon 🎨
DeviantArt is specifically designed with artists in mind. It's an online community where you can share your work with other artists and photographers.
As a user, you can link your account in your email signature. Recipients might also be members of the platform, meaning you discuss your artwork and build deeper connections with them outside email chains.
Clickable calendar icon 🗓️
Have you struggled to promote your upcoming gallery opening or exhibition?
Then think about linking a calendar of your upcoming events, including links that make it easy for recipients to buy tickets.
Include visuals that showcase your artistic flair

👩‍🎨
As an artist, your email signature should be dazzling. Here are some tips that'll help you make an impression every time you land in an inbox:
Once you've decided on the CTAs you want to use, think about their design. Instead of opting for a simple social media icon you've copied and pasted, you could create one from scratch.

Personal headshots help humanise your emails. Instead of a photo, you could include an illustrated portrait of yourself which showcases your artistic style.

Remember to include colour and fonts that help to express your identity as an artist. But don't go overboard. Stick to one colour and font scheme to ensure that your email signature isn't distracting or illegible.
A perfect email signature gets all the small details right.
So make sure you use every one of these components to help communicate your talent and sell your art.
Artist email signature key takeaways
An email signature will help you look professional to curators, galleries, and buyers.




An artist who has an email signature will also be able to grow their personal brand and reach a wider audience.




There are 3 components to a successful artist email signature:

Going overboard with email signature design, or including tons of CTAs, will compromise the effectiveness of your email signature.
Artist email signature FAQs 🙋
What should I include in an email signature if I'm a musician?
Here are some suggestions for what you could include in a musician's email signature:
A clickable SoundCloud icon with demos of your latest recordings or mixes.




A clickable Spotify icon that links to a single you've released, or a playlist that you take inspiration from when making your music.



A clickable Reverbnation icon. It can help you get noticed as an artist, because you can connect with other musicians. Even better than this, if your reach becomes high, you can even get noticed by record labels on the site.
What should I include in an art teacher's email signature?
If you're an art teacher, follow this layout:
Your name

Your office number

Your job title

Place of employment
How do I make a creative/innovative/cool email signature?
Here are some tips for creating a creative email signature.
Link platforms that'll help share your content with recipients. For example, if you're a graphic designer, link your Instagram account with a feed of your latest work and projects.



Include animated GIFs. They can make your email signature interactive and different. But make sure you stick to just one, otherwise your email signature will be distracting.
And there you have it! You're ready to create your professional artist email signature. 💥