Top 10 Email Signature Management Software for 2023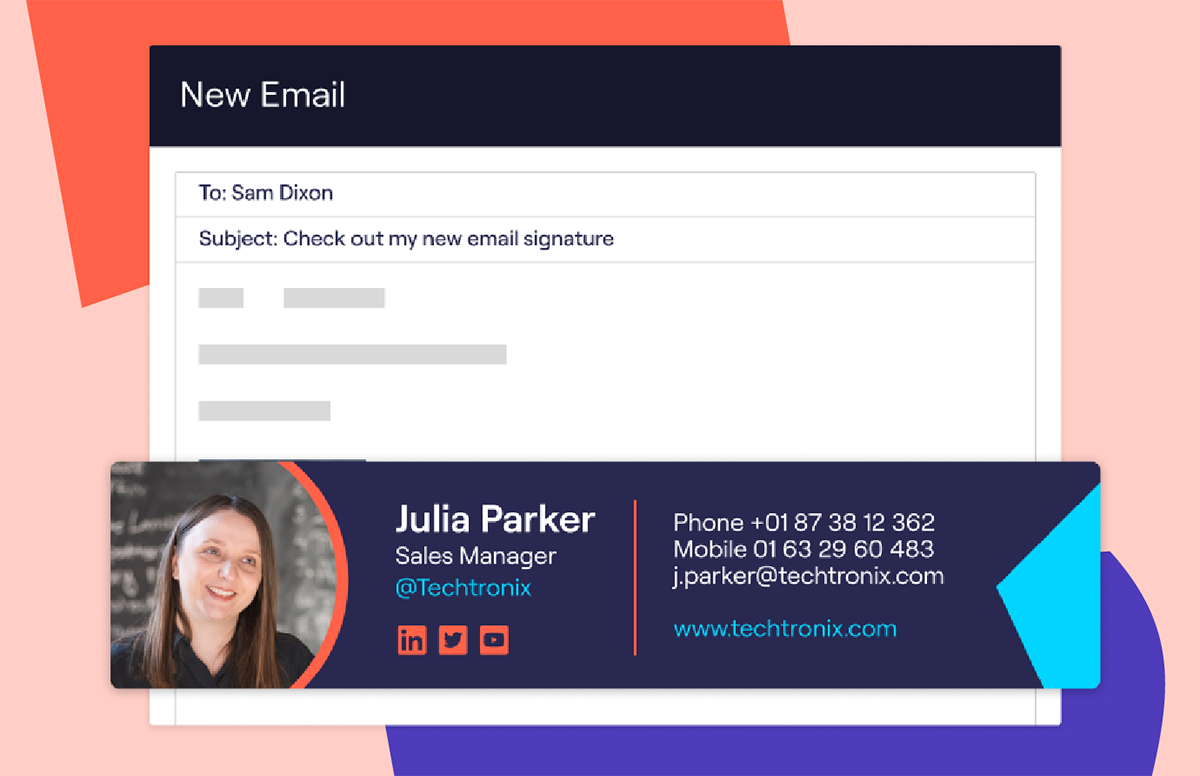 Once you've captured a customer's attention via email, it's up to you to control that visual experience. That's why dynamic email signatures are such an important part of today's email marketing landscape.
Email signature management providers abound—but which one is right for your business? This guide breaks down the most crucial features that email signature software tools offer so that you can narrow down your options.
Mailtastic: The Best Email Signature Software for 2023
Most of the providers we'll feature in this guide get a lot of things right.
But we'll go ahead and spoil it for you: Mailtastic offers the best value on the market.
Mailtastic bridges the gap between user-friendly interface and software sophistication.
Mailtastic's approach combines centralized signature management software with powerful analytics tools that measure ROI and help you optimize based on actionable results.
Full compatibility with Google Workspace (G Suite), Microsoft 365, and Microsoft Exchange makes for an easy transition to an email signature marketing setup. Mailtastic is also GDPR-compliant, ISO/IEC 27001 certified, and all data is stored securely on Microsoft Azure. Discover the full list of our software integrations here.
Top Email Signature Management Systems at a Glance
| | | | | |
| --- | --- | --- | --- | --- |
| Software | Starting Price | Platform Support | Free Trial? | Rating |
| Mailtastic | From £1/user/month. Contact sales for a precise quote here | Google Workspace, Microsoft 365, Microsoft Exchange, Microsoft Outlook, Gmail | Yes | ⭐4.6/5 |
| Opensense | From $1/user/month ($350 monthly minimum) | Google Workspace, Microsoft 365, Microsoft Exchange, Outlook, Gmail, Apple Mail | No | ⭐4.6/5 |
| Newoldstamp | From $13/month | Google Workspace, Microsoft 365, Microsoft Exchange, Outlook, Gmail, Apple Mail, Thunderbird | Yes | ⭐4.6/5 |
| Exclaimer | From $1.65/user/month (minimum 10 users) | Google Workspace, Microsoft 365, Microsoft Exchange, Outlook, Gmail | Yes | ⭐4.6/5 |
| CodeTwo | From $1.36/user/month (minimum 10 users) | Microsoft 365, Microsoft Exchange | Yes | ⭐4.8/5 |
| Crossware Mail Signature | Request a quote here | Microsoft 365, Microsoft Exchange, HCL Domino | Yes | ⭐4.8/5 |
| Wisestamp | From $1.90/user/month (minimum 6 users) | Google Workspace, Microsoft 365, Microsoft Exchange | Yes | ⭐4.6/5 |
| MySignature | From $4/month | Google Workspace, Microsoft 365, Thunderbird, Gmail, Apple Mail | Yes | ⭐4.5/5 |
| LetSignIt | From $1.50/user/month ($75 monthly minimum) | Microsoft 365, Outlook, Microsoft Exchange | Yes | ⭐4.5/5 |
| Rocketseed | From $1/user/month ($75 monthly minimum) | Google Workspace, Microsoft 365, Microsoft Exchange | Yes | ⭐4.9/5 |
10 Top Email Signature Management Software Options
What is the best program to create an email signature? These are our top picks:
Mailtastic

Opensense

Newoldstamp

Exclaimer

CodeTwo

Crossware

WiseStamp

MySignature

LetSignIt

Rocketseet
1. Mailtastic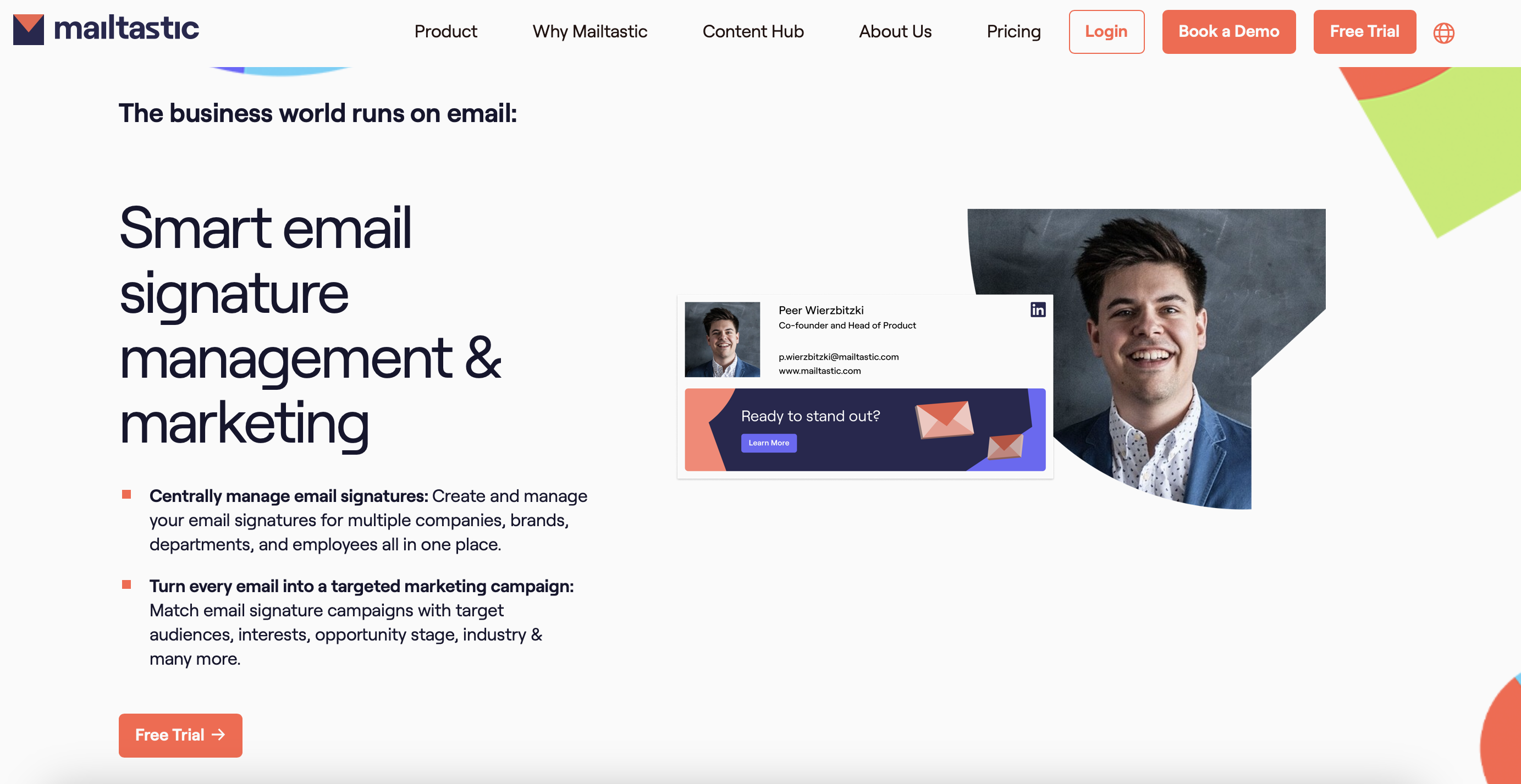 "Thanks to Mailtastic, we were able to achieve unbelievable performance gains and generate additional sales within our standard emails" -Lars B, G2 reviewer
Mailtastic offers professional business email signature templates and user-friendly customization options, including automation features that manage targeted campaigns.
Users can choose from a collection of email signature designs and automate which signatures accompany emails sent to specific groups of email clients or lead lists. Mailtastic users can also include marketing banners alongside their professional email signatures, which boosts visibility and CTR.
Mailtastic has a G2 rating of 4.6/5, with endorsements from large and small businesses alike.
Mailtastic's Key Features
Centrally Managed Email Signatures

Customizable Templates with Clickable Social Media Icons

WYSIWYG Template Design Editor

Cloud-Based Data Imports & API Integrations

Promotional Banners & Marketing Campaigns

Group Targeting

Advanced Scheduling

Engagement Reports & Performance Feed

Integrations Support iOS, Android, Azure AD, & CRM Platforms
Mailtastic Pricing
From £1/user/month. Request full pricing details here.
2. Opensense
"Opensense provides a seamless way to ensure all employee emails are branded. Configuration could be challenging if you are not familiar with SPF/DNS/O365 technologies." -Verified G2 reviewer
Opensense experts help business teams configure HTML signatures for a variety of marketing needs. They offer banners for email marketing campaigns, as well as employee email signatures with consistent branding for your entire organization.
On the G2 website, Opensense is rated 4.6/5, with some customers noting difficulties for teams who don't have the technical know-how to operate the software independently.
Opensense Key Features
Company-Wide Email Signature Management

Banner Campaigns

Engagement Analytics & Sales Insights

Integration with CRM Providers, including Salesforce, Adobe Marketo, and Hubspot

Compatible with Mobile Devices
Opensense Pricing
Signature Plan: $1 per user/per month

Pipeline Plan: $3/user/month

Growth Pros Plan: $5/user/month
All plans require a $350 monthly minimum.
3. Newoldstamp
"Some of the templates could be improved, and maybe more freedom for customization would be very appreciated." -Fausto F, Capterra reviewer
Newoldstamp is an email signature solution that allows individuals and small businesses to use email as a marketing tool. It features an email signature generator and functionality with platforms like Microsoft Exchange, Google Workspace, and Office 365.
Customers give Newoldstamp an overall rating of 4.6/5 on Capterra, noting a lack of customization options in areas including fonts, social media links, and the appearance of contact information.
Newoldstamp's Key Features
Email Signature Templates & Image Library

Campaign-Specific Signatures

Centralized Email Signature Management

Auto-Updates

Reporting & Analytics
Newoldstamp Pricing
Price is determined based on number of employees, with a minimum starting price of $13.
4. Exclaimer
​​"Email signature builder templates are tricky to work with. Sizing, adding pictures, text, and links are sometimes hard to put together." -Verified G2 reviewer
Exclaimer is another email signature management tool that allows businesses to transform routine emails into a streamlined marketing channel. Their services include branded email signatures, targeted marketing campaigns, and integrations like automatic synching of contact information from Azure Active Directory and Google Directory for improved organization practices.
Exclaimer is rated 4.6/5 on G2's website.
Exclaimer's Key Features
Centrally-Managed Email Signatures

Intuitive Email Signature Editing Interface

Template Library

Engagement Analytics Dashboard & ROI Tracking

Advanced Scheduling
Exclaimer Pricing
Signature Management Cloud: $1.65/user/per month

Signature Marketing Cloud: $3.80/user/per month
Each pricing plan requires a minimum of 10 users
5. CodeTwo
"The configuration and administration of the tool is very easy and friendly [...] The Outlook plugin would be a nice option, however this option is actually too limited." -Alain S, G2 Reviewer
CodeTwo email signatures are well-acclaimed and used by some major corporations. They offer cloud-based email signature software at scale, which ensures brand consistency across multiple different departments and supports marketing campaigns that target major email clients.
CodeTwo has a G2 rating of 4.8/5. Users endorse the software with the caveat that it isn't automatically compatible with Google Workspace (although this functionality might improve in the future).
CodeTwo's Key Features
Full Compatibility With Mobile Devices

Flexible HTML and WYSIWYG Editor

Auto-Responder Function for Out-of-Office Emails

Azure AD Support

GDPR certified and ISO 27001/27108 Compliant
CodeTwo Pricing
$1.36 per user/per month, with a minimum of 10 users.
6. Crossware
"Although I like the feature, some users have requested the ability to switch signature templates depending on who they are emailing." -Mike G, Capterra reviewer
Crossware Mail Signature is a cloud-based software solution for managing email signatures. Some unique features include a detailed rule-building option that helps systematize the email signature design process, as well as advanced control over which users have access to these design functions.
Crossware has a rating of 4.8 on Capterra.
Crossware's Key Features
Centralized Control over Email Signatures

Selective Admin Access Option

Azure AD Integration

Full Customization of Signature Blocks & Display Rules

Rich Text and HTML Editor

Marketing Banners & Legal Disclaimers

Interactive One-Click Surveys & Reviews

GDPR Certified and ISO 27001 Compliant
Crossware Pricing
Price quotes can be requested here.


7. WiseStamp
"I wish there was more customization for the layout rather than just the templates, but the premium templates are great so it's not a big loss." -Kristy S, G2 Reviewer
WiseStamp boasts compatibility with all email providers, as well as hundreds of pre-designed email signature templates. Their email signatures are fully compatible with iPhones, Macs, and PCs (but not Android phones).
Reviewers give WiseStamp a 4.6/5 rating on G2's website but note that template customization options are limited.
WiseStamp's Key Features
Supports All Email Platforms

Template Library

Campaign-Specific Signatures

Banners, Buttons, Videos, and Disclaimers

Reporting & Analytics

ISO/IEC 27001 Certified and GDPR Compliant
WiseStamp Pricing
SoHo (6-10 employees): $1.20-$3.60/user/month

Teams (11-200 employees): $1.60/user/month
Enterprise (200+ employees): Request a quote here.
8. MySignature
"Very limited with design customization. Have to use the spacing they have pre-set and cannot remove extra spaces [...] making the look of the signatures a bit off." -Verified G2 Reviewer
MySignature offers email signature software that's intuitive and easy to use. Pre-designed customizable templates allow businesses of any size to boost professionalism and brand awareness by creating and managing email signatures from any internet-connected device.
Customers rate MySignature 4.5/5 on G2's website, with a lack of customization options being the main drawback.
MySignature's Key Features
Built-In Email Tracking Tool

Customizable Template Library

Handwritten Signature Generator

Unlimited Social Media Icons

Central Signature Management Dashboard

Compatible With Any Web-Enabled Device
MySignature Pricing
Pro: From $4/month

Pro Plus: From $6/month
9. LetSignIt
"Hard to see for a given user what they have access to. Requires lots of rigor when you need to have clearly separated groups." -Verified G2 Reviewer
LetSignIt provides email signature software that allows users to synchronize their brand image and enhance marketing campaigns. Seamless integration with Office 365 and Azure Active Directory simplifies the task of managing email signatures company-wide.
LetSignIt has a G2 rating of 4.5/5, with most complaints pointing out software glitches and delayed customer service response.
LetSignIt's Key Features
Intuitive Drag-And-Drop Signature Editor

Campaign-Specific Promotional Banners

Compatible With All Internet-Connected Devices

Azure AD Integration

G Suite API Option

ISO 27001/27081 Certified
LetSignIt Pricing
Branding: $1.50/user/month

Campaigns: $2/user/month
All plans require a $75 monthly minimum subscription.
10. Rocketseed
"The software does not offer enough flexibility in terms of design templates and graphics, which makes it challenging to create a unique and visually appealing signature." -Wellem K, Capterra reviewer
Rocketseed offers a dynamic email signature management solution that's fully optimized for Office 365, G Suite, Microsoft Exchange, and Google Analytics. Each user can use multiple email templates depending on which client they're contacting. Rocketseed signatures display seamlessly on all internet-enabled devices.
Capterra reviewers give Rocketseed a 4.9/5 rating.
Rocketseed's Key Features
CRM Integrations Including Azure AD, Salesforce, and Google Analytics

Personalized Disclaimers

Email Marketing Analytics & Reporting

Rotating Live Banner Campaigns

Campaign A/B Testing

Automated Campaign Banner Scheduling

Advanced Segmentation & Campaign Targeting
Rocketseed Pricing
Signature: $1/user/month

Campaign: $2.50/user/month
All pricing options require a $75 monthly minimum subscription.
What To Look For in an Email Signature Management Tool
Each email signature software provider brings their own approach to email signature management. But before choosing, check for these features:
Customizable signature templates.

You'll want to give departments a jumping-off point to begin email signature designs, so make sure your provider offers a diverse library of customizable templates for employees from any department.
Central management that's easy to use.

Make sure you're able to edit and control all email signatures seamlessly from one place.
Multiple signatures per user.

This function is important because it allows users to fully tailor their communications to any client group.
Integrations with key email clients and devices.

The services you chose should integrate with major platforms like Outlook, Gmail, Apple Mail, and Yahoo Mail, and be compatible with both desktop and mobile devices.
Analytics.

You'll want to see exactly how much your business is benefiting from your email signature marketing tool.
Security and compliance.

Safeguard your employees' sensitive data by choosing a provider with ISO/IEC 27001 security certifications, encrypted data transfer, and GDPR compliance.
Flexible permissions.

Customize which users have access to the software's central management dashboard so you can easily delegate internal tasks.
The Bottom Line on Email Signature Management
Rethinking your approach to your company's emails is a step towards a more cohesive marketing strategy and better business management.
For even better results, pick a software solution with tools that measure the impact of your marketing emails, so that you can move towards your team's most effective strategy yet.
Frequently Asked Questions
What is email signature management?
Email signature management is the process to standardize and maintain signatures across an organization. It usually involves a central platform that lets you update signatures instantly, ensuring they're up-to-date, on-brand, effective, and compliant.
How do I manage my email signature in Office 365?
To manage your email signature in Office 365, go to Settings > View all Outlook Settings > Compose and Reply > Email signature. You can edit your signature in text or include advanced features like images in links with HTML. Click Save once you've finished.
How do I automate my email signature?
The best way to automate your email signature is with an email signature management tool. It will update signatures across the organization and keep them updated and compliant. Choose which signature you'd like to include, and it will automatically appear in your messages.